This month we celebrate the 50th Anniversary of Deep Throat, — the movie, not the Watergate informant — the most legendary and famous porn flick ever made and perhaps the most important as well. Released June 12, 1972, Deep Throat was directed by Gerard Damiano (as "Jerry Damiano") and introduced Linda Boreman as "Linda Lovelace" — now considered the industry's first, "porn star." But that's not the only "first" for the film…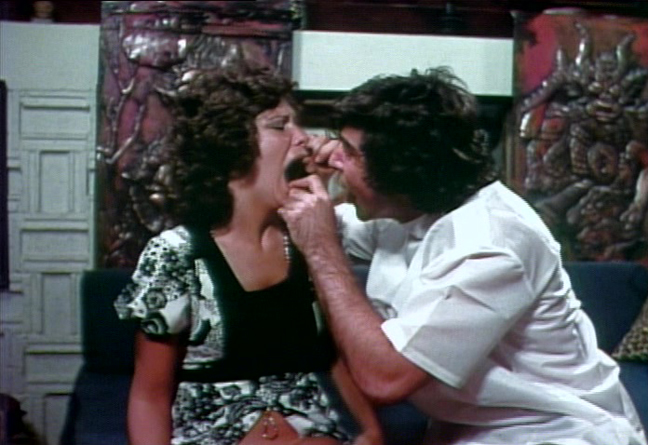 Deep Throat actually coined the term, "deep throat," for the act of taking a cock into your mouth all the way down to the balls, paving the way for an entire sub-genre of porn to follow. It was also one of the first full-length porn films to feature a real plot or storyline, character development, a script, and actual production value — it cost like $30,000 to make at the time which was a fortune in skin flick dollars! And it's success ushered in what's come to be known as "The Golden Era of Porn," as producers and directors raced to emulate its success while the opportunity was there.
Most important of all though, Deep Throat achieved critical acclaim and mainstream success, something no other porn film had accomplished to-date — even Roger Ebert reviewed it — and in the process ignited a cultural shift; singlehandedly changing Americans' attitudes towards sex more than anything since the Kinsey Report and ultimately the entire nation's views of obscenity …forever. On the shadier side, Deep Throat also introduced the Mafia to the porn industry — another lucrative business opportunity beyond booze and gambling — and most famously, provided a cool pseudonym to that secret informant who blew the whistle on Watergate and brought down the Nixon Administration.
Now all that is not to say the film wasn't without controversy. In the 1980s, after her career and money were long gone, Linda Lovelace joined the anti-porn movement and wrote in her book and testified before the Attorney General's Commission of Pornography that she was forced to do the entire film at gunpoint by her whacked-out boyfriend and mobbed-up Damiano and that every time someone watches the movie, they're watching her being raped.
None of that was ever corroborated though, but it did make for an interesting memoir. Who knows, surely the truth is somewhere in-between, as always.
"The Very Best Porn Film Ever Made."
That's what founder/publisher Al Goldstein called it in a summer 1972 edition of SCREW and an enterprising Damiano used those words in every possible way, in every possible promotion for the movie since. Of course, back in the 70s it was considered obscene to use the word, "porn" so adult theater marquees everywhere slightly skewed Al's review to read, "The Very Best X Film Ever Made." (Same thing.) A proud and giddy Al spent the next few weeks driving up and down West 42nd Street every night looking for new marquees featuring his words — and the SCREW name — to snap photos of them for the bragging rights.
To this day, SCREW — and Al's review — is often credited with turning Deep Throat into the huge success it was. The film earned more than $50 MILLION at the box office during its theater run and (arguably) over $500 MILLION since. On the other side of that, one could argue all the film's promotion and fanfare helped just as much to propel the SCREW brand, and the Al Goldstein persona, to success. (But don't tell Al that.)
Al Goldstein "interviews" Linda Lovelace
In 2005, Al Goldstein wrote of Linda Lovelace and Deep Throat in his blog on Booble, "I am the guy who made Deep Throat the huge hit it became in 1972 when I gave it my highest review in SCREW with a 100% rating on my Peter Meter. My measuring tool for evaluation of porn films was based on how many hard-ons it produced. It was also the year Linda Lovelace sucked my cock after I interviewed her. I ran those photos of my cock plummeting her gullet in my newspaper.
So there I am in The Dixie Hotel, a $35-a-night rat hole and certainly no Watergate Hotel. With me is Chuck Trayner, Linda's pimp and fellatio mentor and years later to be Marilyn Chambers (of "Ivory Snow" fame) boyfriend and my partner at SCREW at that time, the catatonic but honest and witty Jim Buckley. But, Jim was a good (repressed) Catholic and passed on a blowjob from Lovelace and I instead photographed my sweaty and exhibitionist romp.
The blowjob was a gift from the mafia producers of Deep Throat. It was payback for my positive review. I remember thinking "how small my cock is" as it easily was engulfed by her hungry and talented lips. Why didn't she gag or at least choke on my meat? Not even a challange for her prick proclivities. I shot my wad but had to eat her pussy before I came (I'm a gentlemen). She sat on my face and that's when I saw her scar that ran from her neck down to her belly button. It was from a car accident in Texas and why you never see her naked in Deep Throat. It was so hot in that hotel room that I just wanted to come and get a chocolate malt at Howard Johnson across from the hotel — just as if I were at the Watergate. Now, that was exciting!!"
The End. And Deep Throat to you all.
–SM
---
NOW SHOWING ON CLASSIC SMUT
Deep Throat (1972)
Director: Gerard Damiano
Starring: Linda Lovelace, Harry Reems, Dolly Sharp
Runtime: 61 min
IMDb: 5/10
SCREW PeterMeter: 100%


A sexually frustrated woman learns from a doctor that she has an anatomical defect that requires her to have oral sex in order to have an orgasm. Grateful for the doctor's help, she becomes infatuated with him and asks him to marry her. Instead, he gives her a job as a sex therapist, practicing her technique known as "deep throat."
PHIL'S REVIEW: Porn stuff aside, it's actually one of the funniest movies I've ever seen. I mean the whole idea of a woman discovering her clitoris is in her throat is comedy gold! My favorite line is when Linda asks Dr. Young, "How would you like it if you had balls in your ears?" and he responds, "I guess I could hear myself coming!" BOOM!
Included with your paid SCREW Magazine digital subscription. Watch online on any device or stream it to your Xbox, PS4, or your TV with Chromecast or SCREWcast for Roku.
---